President's statement:
Thank you, goodbye and welcome! 
Apologies this update is so late in coming October 2021 feels like a long time ago and there has been so much to do since then. 
A lot of new faces to the Association were introduced and we must thank those that have worked so tirelessly for our Profession over the years.  
Not least in this is Irfan Mehmood who has guided the Association and the Profession over an incredible period of change that will eventually lead to statutory regulation. We are hugely in debt to him, and I am glad to say that he will be staying within the Association to support the case for non-medical prescribing post regulation. He has been our President for many years, and I genuinely don't know where we would have been without him. 
Matthew Harris stepped down as representative to the RCOA. Matt has done amazing work in this position over the last few years and again I am indebted to his service and dedication to the Association. Although, he is stepping back he intends to support Sarah Massey in the rep role, and we welcome her into this position. Matt organised our last conference in Coventry and despite being within a global pandemic it was a tremendous success. 
Howard Cox stepped down as Treasurer and is now pursuing his goal training as an ACCP. Howard has been an incredible asset and inspiration for the AA role for many years. He will be missed, but our loss is intensive care's gain, and we wish him well and all the best on his new journey. 
Scott Hepburn has stepped down as Secretary, a role he has done for several years. Scott has been influential within the Association from its inception and has reformed and updated the constitution of the Association, which has enabled us to work more effectively. He organised our conference in Sheffield, where for the first time we had a workshop/training day incorporated into it as well, a format we have followed since. 
We welcome John Randall as Vice President of the Association. A new role advocated in the AGM. As the work increases the closer, we get to statutory regulation John will be able to support the Association Board in representing the profession in several forums. 
Connor James and Emma Aitken to student representative positions. Ella Davies is appointed as Secretary. Lynn Wright as Scotland representative (supported by Aileen O'Neil). Craig Hughes as Welsh representative. Ian Rapsey as web officer and Kyna Houston as a board member. 
Welcome all to the Association and thank you for your commitment to supporting the Anaesthesia Associate profession. 
P Forsythe (AAA President). 
News from the Association
It has been a busy time for the Association this year as Committee members have represented members across a variety of projects, committees and forums. With the GMC our Vice-President John Randall represented the AAA in developing the 'Good medical practice' standards that are currently up for review: 
https://www.gmc-uk.org/ethical-guidance/good-medical-practice-review/take-part-in-the-consultation 
This link can be accessed up to the 20th of July and all views are welcome. 
A proposed Faculty of Anaesthesia Associates at the Royal College of Anaesthetists (RCoA) continues to be developed with meetings to discuss its role, function and responsibilities. Both AAs from the AAA and outside as well as student AAs are represented in these discussions. It is currently chaired by the Vice-President of the RCoA William Harrop-Griffiths and is expected to be up and running sometime in 2023. When we know more about its structure, function, benefits and finances we will keep you informed. As the year progresses expect further updates to clarify these. 
I attended the College Tutors (RCoA) meeting with Jenny Redmore (MAP coordinator at the College) at Cardiff in June. We had an information stand and were able to speak to a lot of interested parties regarding the AA role. I feel these sorts of events that is important to be able to meet Anaesthetists that are involved with medical training as this is often seen as a potential barrier to the training and employment of AAs. Although, I am pleased to see that an article has just been published that has shown findings that indicate that AAs do not have a negative impact on medical trainees and in some cases can have a positive influence: 
https://onlinelibrary.wiley.com/doi/10.1002/hpm.3502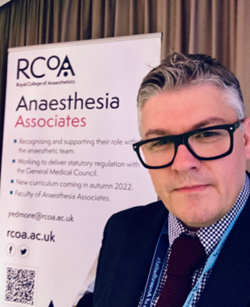 I was also honoured to accept an offer to be a co-opted member of the Council of the Association of Anaesthetists (AoA) and attended my first meeting in June. I am looking forward to working with the AoA in the future to explore how the AA role can support all members of the anaesthtetic team and elective recovery. AAs of course can join the AoA as Associate members with both qualified and student rates:  
https://anaesthetists.org/Home/Membership/Benefits-of-membership/Membership-categories-and-rates 
Conference
I am proud and excited to tell you that this year the AAA conference will be in my home city of Liverpool on the 13th and 14th of October. As in previous conferences the first day will be educational and workshop based with a more traditional conference the following day. We have published a save the date on social media and I promise to update you as soon as possible regarding all the programme details.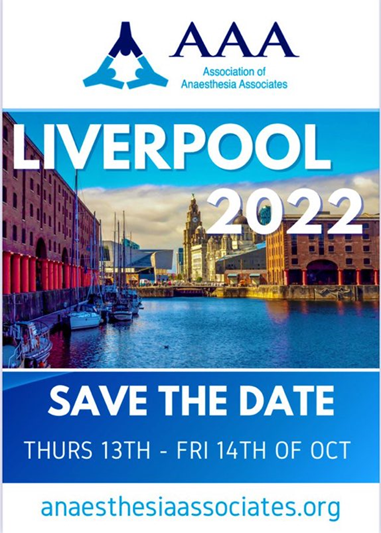 Regulation
As you will know the timeline for statutory regulation for Anaesthesia Associates and Physician Associates has been delayed at least until the Summer of 2023, potentially longer. After discussions with the Department of Health it appears that this delay has been necessary purely because of parliamentary process and not any unwillingness for regulation to be implemented. Indeed, the current Secretary of State recently re stated the objective for this regulation to be fulfilled as originally intended when asked in parliament. 
This delay has given an opportunity for work to be developed on a potential post regulation medicine management process for Anaesthesia Associates. The Association alongside major stakeholders are investigating options such as non-medical prescribing and a pathway for the development of the role that might be required post regulation. We are aware that several Anaesthesia Associates are already prescribing under their existing regulation as previous Health Care Practitioners', again this is being discussed with the GMC on how this could be managed when statutory regulated. 
We have been involved (with the GMC and others) in the development of an Anaesthesia Associate Regulation Assessment (AARA). This will be required in the future (when regulation is established) for all newly qualified Anaesthesia Associates to join the register and practice in the UK. Eventually it could be utilised in an equivalence program for overseas practitioners to gain registration in the UK. It is being developed with the new curriculum recently developed by the RCOA for AAs (recently gone to public consultation through the GMC) and with a wide range of appropriate stakeholders. There have been some preparatory meetings already with workshops and further meetings planned throughout the year. 
I will be attending and talking about regulation and how it may affect Anaesthesia Associates at the following event in July: 
https://www.westminsterforumprojects.co.uk/conference/Healthcare-Reg-2022 
HEE and Education
After many years of having only one Higher Education Institution (HEI) delivering the AA course, we now welcome a second as University College London began their first programme in September 2021.  This is obviously fantastic news and shows that there is a real push for the growth of our profession. I have a particular soft spot for UCL having worked at UCLH for many years, the Consultant body is very supportive and Kyna Houston who is on our committee board is the programme lead. 
One of the key pieces of work for the Medical Associate Professions (MAP) that HEE has been developing (with major stakeholders) is the Core Capabilities Framework that has been released today (27th June 2022). It is an important piece of work that provides a base for career development across all the MAP roles and will be useful not only to AAs themselves, but their employers, educationalists and those who are interested in developing the role. It will also provide a deeper understanding of MAPs to the multi-disciplinary team (MDT), the wider NHS and patients, carers and the public. 
Tendering for more HEIs and funding for training
Following a successful scoping event HEE announced that it intended to open applications for more HEIs to apply to offer a blended learning programme for AA courses. Several HEIs have applied, and the result of the tendering process is due to be announced in July. Alongside this HEE have announced that some central funding for AA training is being made available based on the demand perceived by their initial scoping. This varies by region but equates to approximately 120 nationally. If interested and you do not have details already then please contact the HEE representatives in your region. The deadline for expressions of interest is the 4th of July, so please do apply promptly.  
There has been quite a renewed interest in training and employing AAs. With many opportunities being advertised recently with positions in Scotland and Manchester still open now:  
https://apply.jobs.scot.nhs.uk/displayjob.aspx?jobid=106871&source=JobtrainRss 
https://beta.jobs.nhs.uk/candidate/jobadvert/C9236-22-9304 
On a final note, expect more communications involving AAs from the AAA in conjunction with the RCoA, HEE and the GMC as we head towards statutory regulation. This is an exciting time for our profession as we continue to develop and grow into an effective part of the anaesthesia workforce and a key part to achieving elective recovery of anaesthesia services across the UK. 
At this time, I would strongly encourage AAs to try and capture as much evidence of how they positively contribute both to anaesthetic departments and the care of patients who require anaesthesia services. Now is the time for the profession to highlight and champion its role within anaesthetics and the wider NHS and cement its place within 'team anaesthesia'. 
P Forsythe (AAA President).